EWEA members receive a 20 percent discount when ordering Wind Energy - The Facts or any other publication by Routledge.

Wind Energy - The Facts was launched in March 2009
You can order your copy today!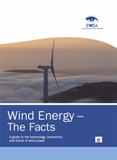 Hardback
March 2009
488 pages
ISBN: 978184407710
About Routledge:
Routledge is a global publisher of academic books, journals and online resources in the humanities and social sciences. Routledge publishes some 600 journals and around 2,000 new books each year, from offices all over the world. The current publishing program encompasses the liveliest texts, and the best in research.